The Professionals
Andy Jinks
(Head PGA Professional)

Andy Jinks is the Head Professional in Golf Club Erding-Grünbach. He has held this position since 2003 and with the Status of "Advanced Professional" of the British Professional Golfers Association (P.G.A.), he is one of the most highly qualified Professionals in the Munich area. After a three-year apprenticeship, Andy passed his P.G.A. exams in 1989. In 2019 he celebrates 30 years as a fully qualified Professional and a total of 33 Professional years. In addition to his British P.G.A. membership, he has also been a fully qualified member of the German P.G.A. since 1996. He has added to his experience as a Professional working in England, Iceland, Austria and Germany.
During his thirty-three years as a Professional, Andy has continuously worked to improve his knowledge and, apart from the day to day experience he has accumulated, has attended many seminars and also gained extra qualifications. Examples of these qualifications are; the "Golf Psychology Coaching Certificate" from the British P.G.A. (2009), "Advanced Certificate in Golf Studies" (British P.G.A. 2016) and "The Biomechanics of Golf" from the Penn State University, U.S.A. (Winter 2016/17). Some of the more recent seminars he has attended are; "Stack and Tilt" (2010), "Flightscope Certification" (2013), "European Tour Performance Institute" (2013), "Passion for the Short Game" (British P.G.A. 2014) and "Developing a Tour Players Short Game" (British P.G.A. 2015). Andy has been a Callaway Golf Product and Fitting specialist since 2011 and was one of the first Europeans to attend the Club Fitting Programme from Ping Golf in Arizona, U.S.A. 1998.
Helping golfers of all ages and abilities to reach their goals, to have more fun playing the game through better shots, fewer putts, more consistency, an accurate and dependable short game, good tactics and equipment that suits their game is what Andy does every day of his working life. To achieve these things, he relies not only on his ability as an expert coach but also on his own long-time participation as a high level player. The use of up to date teaching systems, such as the Flightscope launch Monitor and Swing View Pro video analysis software aids in this endeavour.
---
Roel Mejis (DGTF Professional)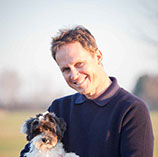 At the age of eighteen Roel Mejis was already a scratch golfer and part of the Dutch youth national golf team.
As a golf teacher in Club Med, Roel was able to gain substantial experience teaching players of all nationalities and abilities. Speaking five languages fluently was a great help in his endeavours!
Roel achieved the highest grade of Level III Instructor as a member of the Dutch Golf Teachers Federation (DGTF) in 2008. He has been the Head Professional in Golf Club Eicherloh and a valued member of Andy's Golf School since 2009. He can often be seen in Golf Club Erding Grünbach with his students.
The enjoyment of teaching, experience as both player and coach, patience and understanding are just some of Roel's strengths as a teacher of the game of golf.